Licensed Clinical Social Worker
I bring my clients an awareness that has developed through my experience and education. 25 years of professional practice is an expression of my care for the community that has given me so much in return. This is the foundation for a broad range of insights into the human condition. This provides me with compassion for people in the context of their relationships, families, work, and our culture at large. I hold a deep committment to alleviate suffering.

My experience including work with individuals, couples, families and groups reinforces my trust in the capacity for change. This depth of healing affects the individual and then moves beyond and into the world. I invite you to learn more about how I approach therapy.

I am happy to provide a free phone consultation with you before we schedule an initial appointment.

Tai Chi Instructor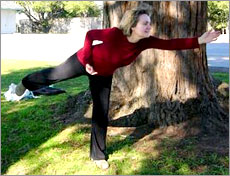 Internal arts help to improve overall health, increasing strength, flexibility and balance. Tai Chi exercizes the joints, muscles, bones and internal organs in a gentle, slow and enlivening way.

Moving meditation as a path for aging healthfully is a gift to body, mind and spirit.

Tai Chi includes excellent practices for developing a sense of well being. People who practice these arts manage and reduce stress, increase energy and sleep better as well. Find out more about Tai Chi and living with a calm spirit.